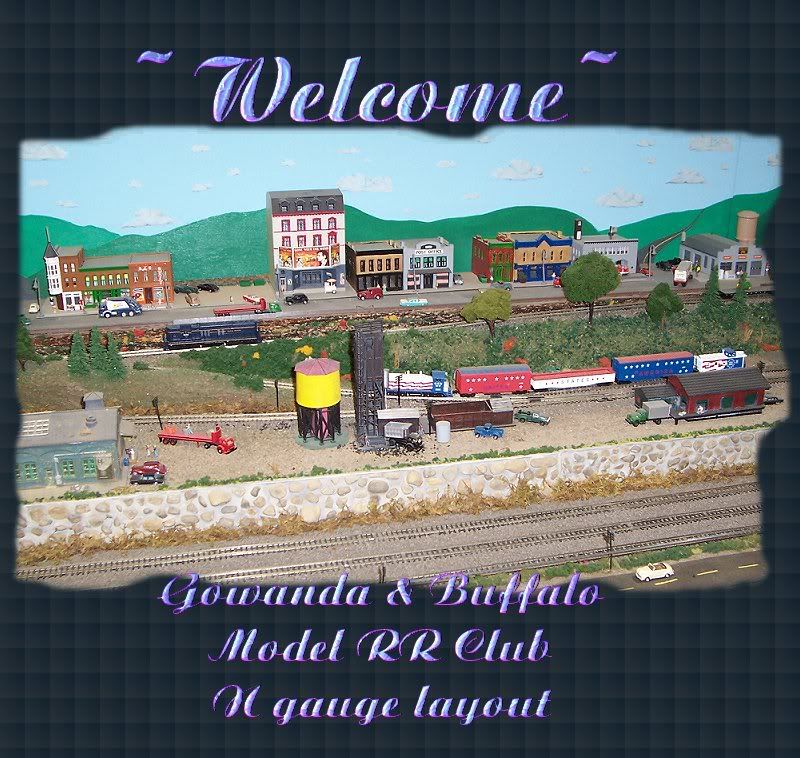 Welcome to The Gowanda & Buffalo Model Railroad Club!!!!!




You have reached our N gauge page of the Gowanda&Buffalo
Model Railroad Club



The new N gauge layout is operating "under construction".
Some of the modules are scenic while others are bare.
You can see the many stages of the construction and ask the builders the "how's and why's"
we all have when we read about those "Dream Layouts"
Yet un-named it is part permanent and part standardized "N-trak Modular"
allowing us to combine it with other modules or to stand alone at model railroad shows.
This is a walk around operation from the mountains to the sea on three main lines
and a mountain line; with interchange, a main yard, many passing sidings
and industrial spurs. The N gauge layout was started 12/18/05.

So if you have ever dreamed of having your own "dream layout" please feel free
to join us and create your own imaginary place made of trains.

Please feel free to come in and join us and have a look around during Open House.

N scale has made some great changes and added new modules and along with some
older modules will be taking these to Train Shows in the area look for us at
the Hamburg Ag Center in November. I believe Gowanda Buffalo will have it's own setup there
with modules specifically from our own N scale. Once I get my laptop up and running again
I will be adding some photos to show you some of the changes we have made
but in the meantime please come and see for yourself.

We have had our modules many different places now and have a One Day module also
We have been at the Hamburg Fairgrounds and at RIT and at
Arcade and Attica 50th Anniversary
We are getting our name out there and introducing people to not
only us but to the world of model trains
and how much fun it can be, please come and visit us.









Please remember to come and join us every Friday evening if you can
we are open @ 8 pm for running of trains in both HO and N gauge

We welcome all newcomers to this hobby and will be more than happy to show you around


We are located at the following address:

Gowanda & Buffalo Model Railroad Club
14267 Taylor Hollow Road
Collins, NY 14034


Basement-Building #73
On the grounds of Collins/Gowanda Correctional Facilities
Across the street from the new water tower

Beginning in November we will be having Open House the Second Sunday of Every Month.
Noon-4pm. So please come and join us.

Watch for signs in the area if you are unfamiliar with the area


If you wish to contact us please use the email in the nav bar or add us to your address book.

gowandabuffalorrclub@yahoo.com

thank you.







**G&BMRRC Main Links**


**G&BMRRC N gauge Photos Links**








G&BMRRC site is Owned by Spirit©2009
Webset created by Spirit©2011
Created exclusively for G&BMRRC
No other use is authorized.