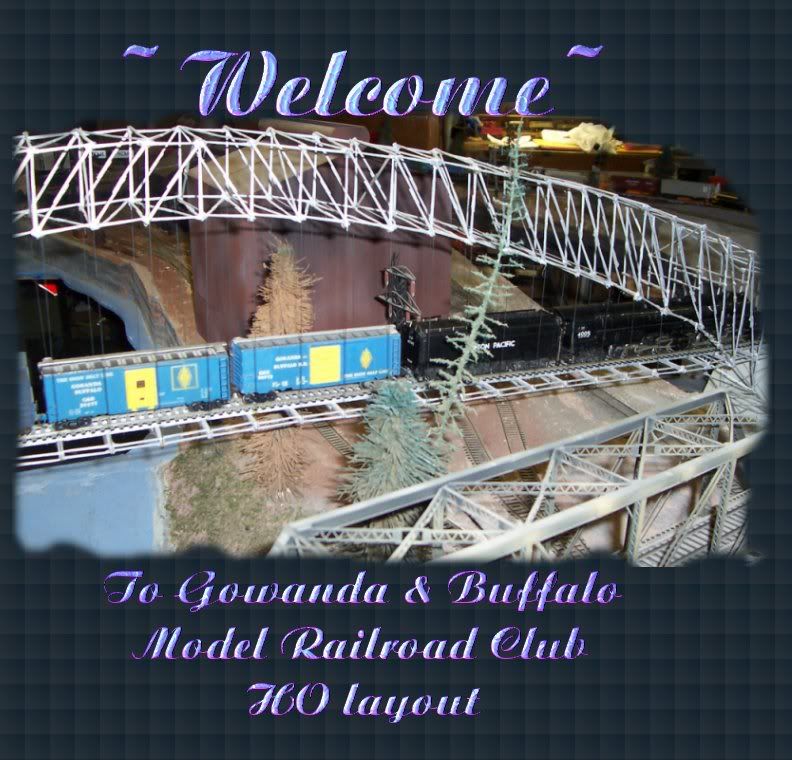 Welcome to The Gowanda & Buffalo Model Railroad Club!!!!!




You have reached our HO gauge page of the Gowanda&Buffalo
Model Railroad Club


The HO gauge layout fills a 33 by 50 foot basement room.
It was originally started in 1961 by Doctor Zucker, an ophthalmologist, as occupational therapy
for the patients at the former Gowanda Psychiatric Hospital.

Highlights include a 52 inch long toothpick suspension bridge built by a former patient;
a large mountainous region with a cogwheel incline railroad serving a mountain top resort;
an oil refinery, a steel plant on the water front in "Buffalo" and a village scene of "Gowanda".

Other areas include Collins, Lawtons, Eden, Hamburg, and Buffalo Creek Junction.
Each of these areas will have a representation of some significant landmarks making
that town more easily identified by the viewer. An example would be for Eden the Kazoo
Factory or Lawtons the canning plant or Hamburg "Rieffler's Cement".

Current construction projects include updating the signal system, scenery, mining operation,
the engine facility with round house and turntable. And the rebuilding of Buffalo with
the New York Central Terminal and Gowanda to include the tannery.
On going projects include the maintenance of the track, switches and electrical operation system.

There are now over 115 turnouts ( rail switches), three large yards, 930 feet of mainline track,
an operational signal system now with NEW SIGNALS and ten block
control panels on the Gowanda & Buffalo Railroad.



Current projects are we are finally beginning to put Gowanda into a roll and get it going
and may see it finished before too long, so come in and see what we have done to it.
Also the water will look a little bit different.
And we are beginning to work on Buffalo and get it back in some sort of order

Please feel free to come in and join us and have a look around on
any Friday night at 8 pm or during an Open House.


The first OPEN HOUSE for the Gowanda & Buffalo Model Railroad Club was Sunday March 28, 2004,
and only for the HO gauge layout.

Below in the second set of links we have some photos of then and now
we will be putting more up as we progress along









Please remember to come and join us every Friday evening if you can
we are open @ 8 pm for running of trains in both HO and N gauge

We welcome all newcomers to this hobby and will be more than happy to show you around


We are located at the following address:

Gowanda & Buffalo Model Railroad Club
14267 Taylor Hollow Road
Collins, NY 14034


Basement-Building #73
On the grounds of Collins/Gowanda Correctional Facilities
Across the street from the new water tower

Beginning in November we will be having Open House the Second Sunday of Every Month.
Noon-4pm. So please come and join us.

Watch for signs in the area if you are unfamiliar with the area


If you wish to contact us please use the email in the nav bar or add us to your address book.

gowandabuffalorrclub@yahoo.com

thank you.









**G&BMRRC Main Links**


**G&BMRRC HO gauge Photos Links**








G&BMRRC site is Owned by Spirit©2009
Webset created by Spirit©2011
Created exclusively for G&BMRRC
No other use is authorized.