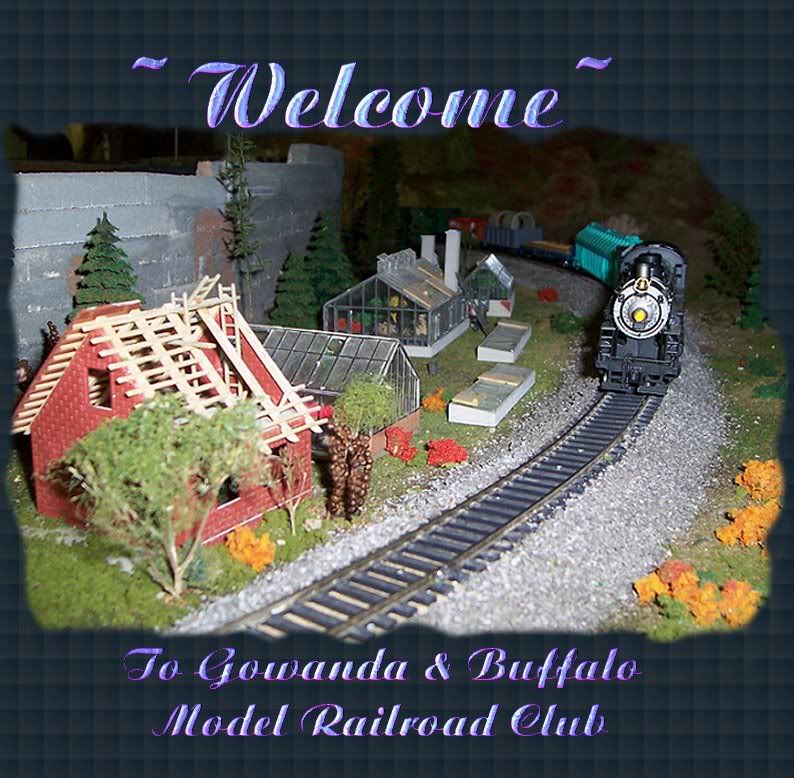 Welcome to The Gowanda & Buffalo Model Railroad Club!!!!!



This website is about The G & B, model railroading, local and railroad history, with links to other railroad sites.


We have an HO gauge layout started in 1961 and an N gauge layout started in 2004.

Take a ride from "HOME" on our nav bar to tour the History, HO layout, N layout,
Meet the Members, Events Schedule, Photos, Directions to Club with map and links.

We have made some changes within both HO and N scale so please come and take a look,
with my laptop down I am unable to post the photos but I will be doing so when I can,
but in the meantime please come in and check us out we have made great strides.

Gowanda & Buffalo Model Railroad Club
14267 Taylor Hollow Road
Collins, NY 14034


Basement-Building #73
On the grounds of Collins/Gowanda Correctional Facilities
Across the street from the new water tower


Beginning in November we will be having Open House the Second Sunday
of Every Month. Noon-4pm. So please come and join us.

Watch for signs in the area if you are unfamiliar with the area


If you wish to contact us please use the email in the nav bar or add us to your address book.

gowandabuffalorrclub@yahoo.com


thank you.









**Enter the Gowanda&Buffalo Model RR Club**








Word for the Month

"Individuality"
Dare to be who you are, and learn to resign with good grace all that you
are not and to believe in your own individuality










G&BMRRC site is Owned by Spirit©2009
Webset created by Spirit©2010
Created exclusively for G&BMRRC
No other use is authorized.